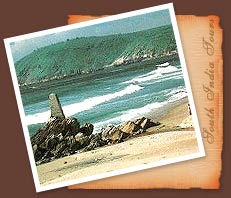 Visakahapatnam , the port city is the jewel on the east coast of India. The City is a harmonious blend of the magical past and the bustling present with a breath taking panorama of golden beaches, lush green fields, verdant valleys and splendid monuments from a rich historical and religious heritage.
Matchless in beauty and landscape, Visakahapatnam is said to have derived its name from the deity 'Visaka' ( the God of Valour). The history of the town can be traced back to Ashoka the Great(272-232 B.C) when this was a small fishing village of the Kalinga Empire. Later on this port town successively passed from the Andhra Kings of Vengi to the Pallavas, Cholas and the Gangas and then later in the 15th century Visakhapatnam became a part of the Vijaya Nagar Empire. The British took charge of this beautiful land and transformed this town into a busy and flourishing port town
Tourist Spots
Araku Valley
The Araku valley, located on the Anatagiri hills at a height of 1,161 mts from Sea Level is the place with the best natural scenery and greenery can be found. The Valley is located 112-Km from Visakhapatnam and has Waterfalls and streams which give a pleasant feeling to the mind.
Simhachalam Temple
The Historic Temple at the Simhachalam, built in the 11th Century, where the Lord Varaha Narasimha Swami's temple is located, resembles the rich cultural heritage Visakhapatnam holds. Located on the Hill top, at a height of 244 mts, popularly called the Hill of the Lion Lord, is the temple of Lord Vishnu in the avatara of Sri Narasimha Swami varu. This great temple built in the 11th century by the King Sri Krishna Deva rayam, is one of its kind in the country. Millions of devotees from round the world visit this temple every year especially during the Chandanotsavam Festival Season.